Comments from the Community
---
I greatly appreciate the comments on my ministry provided by community members I have worked with. I have received permission from the authors to publish their comments on this web site.
A professional reference list, including phone numbers and other contact information, requires a password to open. Please contact me for the information to open the document.
Testimonials for the Rev. Mary Moore
---
Since early 2010, I have been a Co-Chair of the Ministerial Search Committee of the Unitarian Universalist Congregation of the Quad Cities, located in Davenport, Iowa.  In that capacity, I have come to know and appreciate Rev. Mary Moore as our Interim Minister.
Rev. Moore arrived as our Interim Minister on August 1, 2009. I soon found that she is a "quick study" when it comes to accurately evaluating both situations and people.  At all times as our Interim, she showed herself to be very attuned to the various nuances of congregational life, especially when serving  a congregation in an interim between ministers.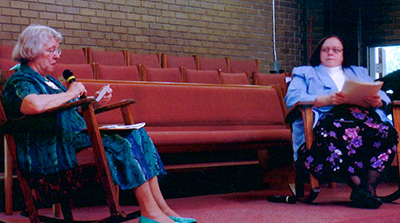 During her Interim with us, Rev, Moore firmly and professionally exhibited her deep knowledge and commitment to ministerial ethics. Due to her fierce adherence to honoring boundaries of ministerial action, she modeled to the Board of Trustees and the leaders of the congregation the necessity of fully ethical behavior by a minister and by congregational leaders.  In this she was at all times a non-anxious presence during problem solving within the congregation, the Board and the Ministerial Search Committee.

Rev, Moore's skills helped me decide to apply for election to our Ministerial Search Committee.  After our Committee had its neutral orientation day, She continued with great care to be a resource for us. Her advice led us to a greater understanding of the necessity of and the practical ways to keep the congregation informed of the Committee's progress.  Her knowledge of the UUA's rules for the search process was one of the tools we used to craft many of the minor corrections necessary in our work.  Rev. Moore's advice on planning the schedules for our tasks and her suggestions for presenting reports to the Board on our progress were crucial to our success.
Based on my observations and work with her, I think Rev. Mary Moore is a fine, experienced and effective Interim Minister, and I recommend her without any reservation.
— James E. Kelley, Co-Chair, UUCQC Ministerial Search Committee
March 28, 2011
As Chair of the Board of Trustees of the Unitarian Universalist Congregation of the Quad Cities, I have observed and worked closely with Rev. Mary Moore as our Interim Minister.
I believe Mary is a brave and wise Minister.  She is not afraid to take on difficult issues. By doing her homework, she is able to anticipate likely objections that may arise in Board meetings and Congregational meetings.
Rev. Moore listens well and actively. She will accept advice and she evaluates it using her considerable experience as both a Settled Minister and an Interim Minister. She is very supportive of the congregational leaders.  She works well with the Board, and respects boundaries.
In her role as Interim Minister, Mary uses her vision of what a healthy congregation looks like to good effect. Her work here has helped us.
I am happy to recommend Rev. Mary Moore as an Interim Minister. 
— Emily Smith, Chair, UUCQC Board of Trustees
March 29, 2011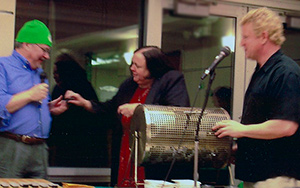 Dedicated, perceptive, caring, conscientious, professional — these are the words that come to mind when I think of the Rev. Mary Moore.  I was fortunate to serve as president-elect and then president of the board of trustees at Westside Unitarian Universalist Church in Knoxville, TN, during Rev. Moore's interim ministry.  Throughout the two years that she was with us, she dedicated herself to helping our congregation heal from past conflicts and prepare for our new settled minister.  While conducting herself in the most professional manner possible, she was not afraid to be the "skunk at the table," to use one of her favorite phrases, to say the things that needed to be said, to help us see our weaknesses as well as our strengths.
During Rev. Moore's tenure, our congregation crafted and adopted a Behavioral Covenant, as well as new Vision and Mission Statements.  We established an Endowment Fund, completed most of the Welcoming Congregation process, and conducted a successful search for a new settled minister.  Working closely with her during this time, I felt and still feel that Rev. Moore was absolutely the best person to guide us through the interim years.
— Ellen Greenwood
Westside Unitarian Universalist Church
Knoxville, TN
When Rev. Mary Moore strolled into our sanctuary dressed in her travelling clothes, a backpack on her back, and a walking stick in her hand, I didn't know she was very well suited to be an Interim Minister. Westside U. U. Church was her first church as an Interim Minister. Soon, I found Mary to be caring, nurturing, and tough. She has solid healthy values and a clear set of boundaries. She is able to ask the difficult questions, sometimes repeatedly. We always knew her time with us was temporary and that we all had work to do, because she kept nudging us toward being a healthy, strong, and growing congregation. We are a mostly healthy, strong, and growing congregation. I am grateful for Mary's time with us. When Rev. Mary strolled out of our church two years later, once again in her travelling clothes, with her backpack, walking stick, and the grateful hearts of our congregation, I knew she would continue her wonderful work as an Interim Minister... it's what she does very well.
— Peggy A. Dickerson,
Westside U. U. Church, Farragut, TN
Mary Moore is an excellent interim minister. She came to our church when we were having some problems, quickly determined what needed to be done and got things moving in a positive direction. She helped us raise a $30,000 special fund to defray the costs of our interim minister and to augment the package we could offer to a new, settled minister. She helped us develop a package to display our church in the strongest way we needed to attract a new minister. The result is that we have a first-class settled minister. Mary is truly excellent in this role.
— William Calhoun, Charter Member
Westside U. U. Church, Farragut, TN
The Reverend Mary Moore served for two years as the interim minister of Westside Unitarian Universalist Church in Farragut, Tennessee. One of my favorite memories of that time was serving with Mary as co-facilitators of the Welcoming Congregation program at our church. Not long after Mary came to us, our high school RE class challenged Westside to become a Welcoming Congregation. After looking over the requirements and skimming through the associated manual from the UUA, we wondered if our small church would be able to pull off the program. Mary would have none of that self-doubt. She assured us that she had shepherded several congregations through the Welcoming Congregation process and that we were fully up to the challenge. She also pointed out that having the Welcoming Congregation certification would be a big plus when we began searching for our settled minister.
I had participated in the Welcoming Congregation workshop series at another UU church, so Mary agreed to serve with me as co-facilitator of the series at Westside. She helped plan the curriculum and shared the lead in all twelve of our workshop sessions. All the way through, Mary led with a contagious enthusiasm that gave us the confidence to pursue the Welcoming Congregation program in a way that truly challenged and strengthened our congregation's understanding of gender identity and sexual orientation issues and led us to become truly welcoming. 
This extra, heavy commitment of time and effort was not part of Mary's agreement to serve as our interim minister. But she took on the role with her characteristic energy because she was personally dedicated to making our church better and stronger and to giving us confidence that we could take on challenges even when we worried that they might be too big for us. And leading us through the Welcoming Congregation program was only one of many ways that Mary strengthened our church.
— Barry Shumpert
I cannot speak highly enough of the service that Rev. Mary Moore offered so generously to our congregation as we searched for a new parish minister. We were not always comfortable during Mary's two years of service as she challenged old conventions and embedded customs that had far outlived their usefulness to our congregation.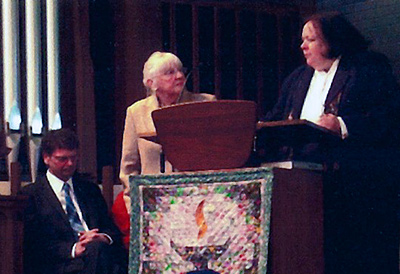 She brought fresh thinking in many areas. Mary quickly realized that our worship planning process had become conflicted and she deftly took control as a pastoral responsibility.  Thus, she put us on a path to correcting the old practices shortly after she arrived. Mary also made a meaningful change in the way we respect and acknowledge joys and concerns during worship. Testimony to her leadership is that we still respect joys and concerns in the same meaningful way every Sunday morning with our new minister.
For a long time we had wrestled with financial stewardship, trying to balance commitment and responsibility. What constitutes a voting member…a financial commitment? We kept struggling with and revising a minimum pledge. What was fair? What was enough? She very gently suggested that we simplify the issue. "A voting member would be anyone who has a record of a stewardship pledge and has made a payment against that pledge." Through her guidance, we became more inclusive in voting membership and extended stewardship responsibility more broadly among our members. It has worked.
Sometimes, she made little changes that had sizable impacts. She facilitated changing a holiday "Hanging of the Greens" tradition from a few members decorating the sanctuary on a weekday morning to a joyous after-worship all-congregation family event.
I have great admiration for the UUA's interim minister program and the service that Rev. Mary Moore gave to us so unselfishly. We have benefited greatly from her wisdom and experience.
— Charles A. Nelson
Member of the Board of Trustees during Mary's tenure with the Unitarian Universalist Church of Akron
(August 1, 2008 through July 31, 2010)
President of the congregation during our new minister's first year
Mary Moore was our interim minister from August 2007 to July 2009.  We were a rather traumatized church when Mary came into our lives.  Our settled minister, who had been part of our lives for about a dozen years, resigned rather suddenly in the spring of 2007.  I was on the Board at the time and we quickly had to appoint a committee to find an interim minister.  The committee did a great job by choosing Mary.  
Mary helped us through the soul-searching process that was necessary to do before we could call a new settled minister.  I was impressed with how quickly Mary learned about who we were and how she integrated the knowledge into the services.  Mary connected us with our history with memorable services that showed our church's link to Sojourner Truth and one on some interesting old church documents she found.  Mary helped us look at our present and determine who we want to be by presenting services on important social issues and on behaviors that should define our church such as laughter, love, belonging, leadership, inclusion, tolerance, celebration, and truth.  Mary forced us to evaluate church traditions and helped us to develop and experiment with new traditions, ones that might better serve us.  Mary's work helped us effectively choose a new minister.  She left us ready to welcome our new settled minister.  She did all this with love, gentleness, humor and uncommon dedication.  I will always remember Mary with great affection and gratitude.    
— Claire Tessier
Member of the UU Church of Akron Ohio
The Abraham Lincoln UU Fellowship was a "comfortable", stable congregation operating in the confines of a former fundamentalist Christian church with a baptismal that just did not fit our customs and a physical plant that was not very accessible nor inviting to visitors and prospective new members. A few visionaries began speculating about our future and grew concerned that the children and youth were being subjected to unfriendly basement classrooms that were not attractive and susceptible to mold. Key members of the fellowship also realized that, unless we took some dramatic action, growth and development would be extremely limited, if not impossible.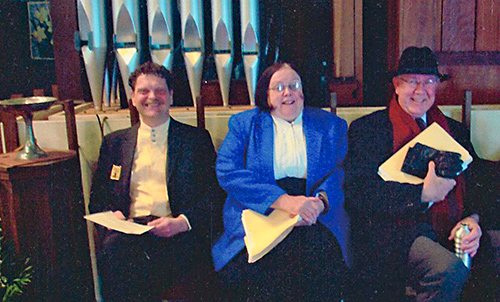 Reverend Mary Moore encouraged the congregation to engage in long-term planning that led us to promote, organize, and conduct two (2) capital campaigns involving the search and purchase of 5 acres of farmland just south of Springfield. She counseled the church leadership through each critical step in the process and celebrated the the subsequent development of plans for the design and construction of a wonderful new facility dedicated in 1996 that has enabled our congregation to grow and now flourish in Abraham Lincoln's hometown.
Reverend Moore was the sitting minister throughout the process of visioning, planning and settling in the new home of what is now the Abraham Lincoln UU Congregation.
— Kurt R. DeWeese, President
ALUUC
Rev. Mary Moore is one of the most effective interims I've ever had the joy to work with. She is both creative and pastoral in her approach, with a strong understanding of complex and often contradictory congregational dynamics. I wish there were a way to clone her so she could serve all of my district's congregations in transition.
— Rev. Joan Van Becelaere, District Executive
Ohio-Meadville District of the UUA
As an Interim Minister for one of our mid-size congregations, Mary Moore helped the congregation look at its issues and confront its challenges. With skill and determination, she helped the congregation move beyond some less-than-healthy behaviors. They now have a candidate to be their next Settled Minister, and I am positive about their future. I have no reservations about recommending Mary Moore to congregations that are serious about getting assistance and moving ahead.
— Nancy Heege, Prairie Star District Executive
Rev. Mary Moore showed an impressive level of skill, experience and knowledge in her interim ministry with our congregation.  She worked hard to understand the history of the congregation, and the systems and people within it.   She was a strong advocate for healthy congregational systems and helped us understand where we were strong as well as areas which needed to be addressed.  She cared deeply about every member, and the membership as a whole.  She was instrumental in facilitating the changes necessary to put us in a good position to seek and call a first-rate settled minister.
Rev. Moore has a keen understanding of the core objectives of the interim period, and the role of the interim minister in helping the congregation meet those objectives. She consistently and tirelessly encouraged us to see the best in ourselves; enabling us to see our potential and possibilities we could not have imagined.  She encouraged us to keep on track during the search process.  I worked closely with Mary for two years, and found her to be a good colleague and supervisor.  
Due in large part to Rev. Moore's guidance, we have a new settled minister; called by a unanimous vote and within our original two-year time line.  As a staff member, it is clear to me that the work Mary did here created a solid foundation for a successful new ministry.  Searching for and calling a new minister is not always easy going. Mary never let us forget that we were good, deserving and capable.
— Richard Roberts
Director of Religious Education
Unitarian Universalist Church of Akron